WhipPredict: Risk stratification for whiplash
What is WhipPredict?
The Whip Predict tool is for use in people who present to your clinic with acute whiplash. 
The Whip Predict tool was developed by Professor Michele Sterling and colleagues at the RECOVER Injury Research Centre, The University of Queensland. The tool is underpinned by an extensive research evidence-base and has the support of the Australian Physiotherapy Association.
Please be in touch via email recover@uq.edu.au if you have any questions or would like to provide feedback on the tool.
More information about WhipPredict
Recovery following a whiplash injury is varied. While approximately 50 per cent of individuals fully recover, 25 per cent develop persistent moderate/severe pain and disability and 25 per cent experience milder levels of disability.
A whiplash risk stratification tool is a research-generated tool used to predict outcomes such as likelihood of developing moderate/severe disability or experiencing full recovery from whiplash injury. In our studies[1] we observed increased probability of developing chronic moderate/severe disability in the presence of older age and initially higher levels of NDI and hyperarousal symptoms (positive predictive value [PPV] = 71 per cent) and increased probability of full recovery in younger individuals with initially lower levels of neck disability (PPV = 71 per cent).
This questionnaire will help you to judge the likelihood of recovery for patients with a whiplash injury using the whiplash clinical prediction rule. Once your patient has filled the form and you have calculated the NDI and the hyperarousal symptoms (if applicable) scores, follow the diagram below for making a prediction about the likelihood of recovery.
Access the WhipPredict tool
What do WhipPredict results mean for treatment?
We are currently undertaking a clinical trial where treatment is provided based on the risk classification of the patient. We are proposing that those classified as 'low risk' will need minimal intervention comprising of advice and simple exercises. Patients classified as 'medium' or 'high risk' require further assessment of physical (movement and muscle control, kinaesthetic awareness, sensory examination) and psychological factors such as recovery expectations and post-traumatic stress symptoms. Treatment will depend upon findings from this more detailed assessment. Further information about the whiplash risk stratification tool is available on recover.centre.uq.edu.au The current (2015) evidence based Clinical Practice Guidelines for Acute Whiplash is available here.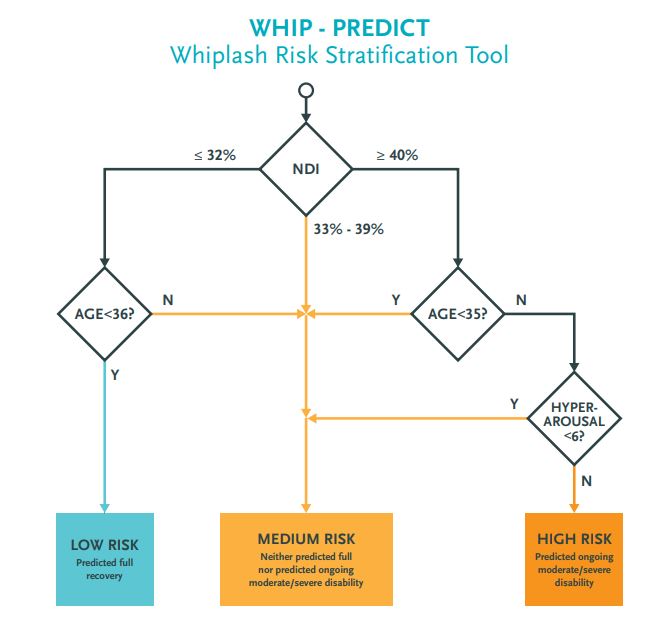 ---
References
Agreement is very low between a clinical prediction rule and physiotherapist assessment for classifying the risk of poor recovery of individuals with acute whiplash injury (PDF, 384KB)
Joan Kelly, Carrie Ritchie, Michele Sterling (2018)
External Validation of a Clinical Prediction Rule to Predict Full Recovery and Ongoing Moderate/Severe Disability Following Acute Whiplash Injury (PDF, 673KB)
Carrie Ritchie, Joan Hendrikz, Gwendolen Jull, James Elliott, Michele Sterling (2015)
Derivation of a Clinical Prediction Rule to Identify Both Chronic Moderate/Severe Disability and Full Recovery Following Whiplash Injury (PDF, 364KB)
Carrie Ritchie, Joan Hendrikz, Justin Kenardy, Michele Sterling (2013)
Top of page
Whiplash treatment options
Whiplash evidence based information resource is a resource providing evidence based information to the general public and health care professionals about whiplash and its management.
Top of page